Lec.no.3/Female genital tract 22/10/2019
Dr.Ro,aa S.Mahdi
OVARIES
Follicle cyst and Luteal Cyst are common and usually harmless lesions originate in unruptured graafian follicles or in follicles that have ruptured and immediately sealed. Such cysts are often multiple and subserosal. Occasionally, they achieve diameters of 4 to 5 cm and may thus become palpable and produce pelvic pain. They may also rupture, producing intraperitoneal bleeding and acute abdominal symptoms.
Polycystic Ovarian syndrome (Stein-Leventhal syndrome)
Oligomenorrhea, hirsutism, infertility, and sometimes obesity may appear in young women secondary to excessive production of androgens by multiple cystic follicles in the ovaries. The ovaries are usually twice the normal size, gray-white with a smooth outer surface,& studded with subcortical cysts 0.5 to 1.5 cm in diameter. Microscopically, there is a thickened, fibrotic tunica with underlying follicular cysts. Stigmata of previous ovulation are usually absent (corpora lutea or albicans). In most patients there are excessive production of androgens, high concentrations of luteinizing hormone, and low concentrations of follicle-stimulating hormone. These changes inhibit ovulation. It is proposed that the ovaries in this condition elaborate excess androgens and these, through the hypothalamus, inhibit the secretion of follicle-stimulating hormone by the pituitary. The basis of excess ovarian androgen secretion is not clear. The diagnosis of this syndrome can not be made on morphological grounds alone; both clinical & endocrine data are also required.
TUMORS OF THE OVARY
Ovarian cancer is the fifth leading cause of cancer death in women. Tumors of the ovary are diverse and this diversity is attributable to the three cell types that make up the normal ovary:
1. The surface (coelomic) covering epithelium
2. The germ cells
3. The sex cord/stromal cells.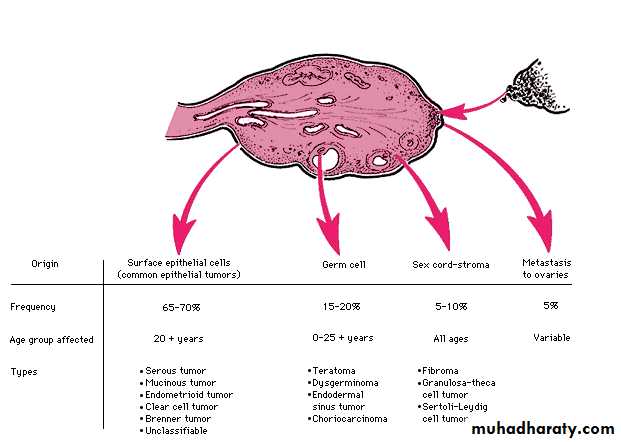 Each of these cell types gives rise to a variety of tumors . Neoplasms of surface epithelial constitute the great majority of primary ovarian tumors (70%), and their malignant forms account for 90% of ovarian cancers. Germ-cell and sex cord/stromal cell tumors constitute 20% to 30% of ovarian tumors, but are collectively responsible for fewer than 10% of malignant tumors.
Pathogenesis
Nulliparity and family history are the two most important risk factors of epithelial ovarian cancers. There is a higher incidence of carcinoma in unmarried women and married women with low parity. Up to10% of ovarian cancers are familial; the majority of these hereditary cancers seem to be caused by mutations in BRCA1 and BRCA2 genes, these are also associated with hereditary breast cancer. Indeed, with mutations in these genes there is increased risk for both ovarian and breast cancers. Mutations in BRCA genes are also present in 10% of sporadic (nonfamilial) ovarian cancers. Other molecular changes of ovarian neoplasms include HER2/NEU & K-RAS proteins over-expression and p53 mutation. The latter is present in about 50% of all ovarian cancers.
Surface Epithelial Tumors
These neoplasms are derived from the surface coelomic mesothelial covering of the ovary. With repeated ovulation and scarring the surface epithelium is pulled into the subjacent cortex, forming small epithelial cysts. These can undergo metaplasia with subsequent neoplastic transformation into the various histological types of the epithelial tumors. Benign lesions are usually cystic (cystadenoma) or can have an accompanying stromal component (cystadenofibroma). Malignant tumors may also be cystic (cystadenocarcinoma) or solid (carcinoma). The surface epithelial tumors also have an intermediate, borderline category referred to as tumors of low malignant potential. These seem to be low-grade cancers with limited invasive potential. Thus, they have a better prognosis than the fully malignant ovarian carcinomas. Surface epithelial tumors are divided into serous, mucinous, endometrioid & Brenner tumors.
A. Serous Tumors are the most frequent of the ovarian tumors. Benign lesions are usually encountered around 35 years of age, and malignant ones around 55.
Gross features
Most serous tumors are large, spherical, and cystic.
About 25% of the benign forms are bilateral. These benign tumors display a smooth and glistening serosal covering.
They are generally unilocular, but larger examples may be multilocular.
The cystic spaces are usually filled with a clear serous fluid.
Projecting into the cystic cavities are papillary projections that become more marked in malignant tumors.
In contrast to the benign examples, the surface of cystadenocarcinoma shows nodular or warty irregularities that represent cancerous penetration of the serosa.
Microscopic features
The benign tumors show a single layer of tall columnar epithelium that lines the cyst (s)
Psammoma bodies (rounded laminated calcified structures) are common.
In carcinoma, the lining cells display malignant features with invasion of the stroma. Papillary formations are complex and multilayered.
Borderline tumors show milder cytologic atypia and typically, no stromal invasion. These tumors may seed the peritoneum by tumors implants that are typically also noninvasive.
In general, malignant serous tumors spread to regional lymph nodes, including para-aortic lymph nodes, but distant lymphatic and hematogenous metastases are infrequent.
The prognosis for the clearly invasive serous cystadenocarcinoma is poor and depends heavily on the stage of the disease at the time of diagnosis. But it is much better for the borderline tumors even with the presence of peritoneal implants.
B. Mucinous Tumors differ from serous tumors essentially in the epihich is of mucin-secreting cells similar to those of the endocervical or intestinal mucosa. These tumors occur in women in the same age range as those with serous tumors, but the majority are benign (80%), only 10% are malignant (cystadenocarcinomas), and 10% are of low malignant potential.
Gross features
The incidence of bilateral ovarian involvement is much lower than for their serous counterparts. Bilateral mucinous carcinomas of the ovary must be differentiated from metastatic adenocarcinomas of the gastrointestinal tract, which may present as ovarian masses (Krukemberg tumors).
Compared to their serous tumors, they show mucinous cystic contents and tend to be larger and multilocular but papillary formations are less common.
Microscopic features
Mucinous tumors are classified according to the type of the mucin-producing epithelial cells into endocervical, intestinal and müllerian-types.
Unlike in their serous counterparts, psammoma bodies are not found.
Serosal penetration and solid areas point to malignancy.
Rupture of mucinous tumors may result in mucinous deposits in the peritoneum but typically do not result in the malignant growth referred to as pseudomyxoma peritonei. The vast majority if not all cases of the latter are caused by metastasis from the gastrointestinal tract, primarily the appendix. Metastasis of mucinous tumor of the gastrointestinal tract to the ovaries (Krukenberg tumor) may also mimic an ovarian primary tumor.
The prognosis of mucinous cystadenocarcinoma is somewhat better than that of the serous counterpart, but the stage rather than the histologic type is the major determinant of prognosis.
C. Endometrioid Tumors may be solid or cystic, but sometimes they develop as a mass projecting from the wall of an endometriotic cyst. They are distinguished by the formation of tubular glands (similar to those of the endometrium) within the linings of cystic spaces. Endometrioid tumors are usually malignant. They are bilateral in about 30% of cases, and up to 30% of women with these ovarian tumors have a concomitant endometrial carcinoma.
D. Brenner Tumor is an uncommon, solid, usually unilateral ovarian tumor consisting of an abundant stroma containing nests of transitional epithelium resembling that of the urinary tract. Although most are benign, both malignant and borderline tumors have been described.
Germ Cell Tumors
1. Dysgerminoma: these usually presents within 10 to 30 years of age. Their microscopic picture is analogous to testicular seminoma. All are malignant but only 30% are aggressive and disseminate. All are radiosensitive with 80% cure.
2. Yolk sac tumor & embryonal carcinoma are similar to their testicular counterparts.
3. Choriocarcinoma presents within the first three decades of life. They are pathologically identical to placental choriocarcinoma.
4. Teratomas constitute up to 20% of ovarian tumors and arise in the first two decades of life; the younger the person, the greater is the likelihood of malignancy. However, more than 90% of these germ-cell neoplasms are benign mature cystic teratomas.
Benign (Mature) Cystic Teratomas are characterized by differentiation of totipotential germ cells into mature tissues representing all three germ cell layers: ectoderm, endoderm, and mesoderm. Usually there is the formation of a cyst lined by recognizable epidermis stuffed with adnexal appendages-hence the common designation dermoid cysts. They rarely exceed 10 cm in diameter. On opening, they are often filled with sebaceous secretion and matted hair. Sometimes there is a nodular projection from which teeth protrude. Occasionally, foci of bone and cartilage, nests of bronchial or gastrointestinal epithelium, and other recognizable lines of development are also present. Thyroid tissues are present in 10% of the cases. These tumors are prone to undergo torsion (10% of cases), producing an acute surgical emergency.
Immature Malignant Teratomas differ from mature cystic teratoma by being often bulky, predominantly solid or near-solid, and punctuated by areas of necrosis. Microscopically, the distinguishing feature is a variety of immature tissues such as cartilage, bone, muscle, nerve, and other structures. Particularly worrying are foci of neuroepithelial differentiation, because most of these are aggressive and metastasize widely.
Specialized Teratomas
These include
1. Struma ovarii: composed entirely of mature thyroid tissue that may hyperfunction and produce hyperthyroidism.
2. Ovarian carcinoid, which in rare instances has produced the carcinoid syndrome.
METASTASES TO OVARY are usually encountered in older ages. Mostly both ovaries are involved. Grossly there are solid gray-white masses as large as 20cm in diameter. Microscopically, there are malignant tumor cells arranged in cords or glands, and dispersed through a usually prominent fibroblastic background. Primaries include gastrointestinal tract, breast, and lung, & endometrium. When the infiltration is by mucin-containing signet ring cells the term Krukenberg tumor is applied. This is usually bilateral and nearly always of metastatic origin.
Clinical Correlations of ovarian cancers: all ovarian neoplasms produce no symptoms or signs until they are well advanced. Indeed, about a third of all ovarian neoplasms are discovered incidentally on routine gynecologic examination. The clinical presentation of all ovarian tumors is remarkably similar, except for the functioning neoplasms that have hormonal effects. When they become large enough they cause local pressure symptoms (e.g., pain, gastrointestinal complaints, and urinary frequency). Larger masses, notably the common epithelial tumors, may cause an increase in abdominal girth. Smaller masses, particularly dermoid cysts, sometimes become twisted on their pedicles (torsion), producing severe abdominal pain mimicking an "acute abdomen." Fibromas and malignant serous tumors often cause ascites, the latter resulting from metastatic seeding of the peritoneal cavity, so that tumor cells can be identified in the ascitic fluid. Among the many markers that have been explored, elevations of the protein CA-125 have been reported in 75% to 90% of women with epithelial ovarian cancer. CA-125 measurements are of greatest value in monitoring response to therapy.